Top 5 Tropical Honeymoon Destinations
Posted by Serene Martinez on Sep 20th 2016
Jade Mountain / Anse Chastanet Resorts: St. Lucia

Pick your pleasure. Jade Mountain Luxury resort and Anse Chastanet eco-friendly luxury resort are sister properties sharing one breathtaking location. Each offers their own unique take on luxury and romantic fun.

Jade Mountain has consistently been rated as a top destination for luxury travel in the Caribbean. The hotel is perched on a hillside overlooking the majestic Pitons of picturesque St. Lucia. The unique architecture of the hotel curves and undulates along the hillside in a very cool modern sexy way. Each room is conveniently missing it's fourth wall, leaving your room open to the amazing view. So, lay on the bed with a cocktail and take it all in, or slip into your private infinity pool with your new mate for some marital fun.

Be prepared to melt your credit card at the Jade. Rates start at $1,415. and reach upwards of $3,000. a night. But, with your own private butler, in room pool, and a chauffeur to drive you up and down the hill to the beach, you might not mind spending a little extra for this once in a lifetime experience.

The Anse Chastanet is situated just below the Jade Mountain. Okay, so most of the rooms here don't offer infinity pools, but you can still choose a missing wall room or sit on the balcony of your little bungalow. This hotel is uber eco-friendly. They've done everything from designed their own water system to choosing yellow lighting at night which won't disorientate the hatching turtles. Do keep in mind this means air conditioners are few and far between.

The Anse Chastanet shares the same beach and view as the Jade Mountain but at a fraction of the cost. Here rooms start at about $450. a night.

The reason I've chosen a hotel rather than a city or island in general? You may not leave this beach.

The beach for the hotels is on a marine sanctuary, resulting in incredible scuba diving and natural beauty. The beach has an open air bar and restaurant, which of course is supplied by the resorts organic farms and locally sourced ingredients. Need a drink? No need to move. Simply stick your flag in the sand and someone will come and serve you. (That's not a euphemism by the way. They literally give you a flag to stick in the sand when you want something.) When it gets too hot you can bob around in the tranquil surf or have Junior, the happiest man you'll ever meet, come spray you down with cool eucalyptus water in his spray bottle and give you a cold, moist, lemon fresh towel out of his cooler.
Ko Phangan: Thailand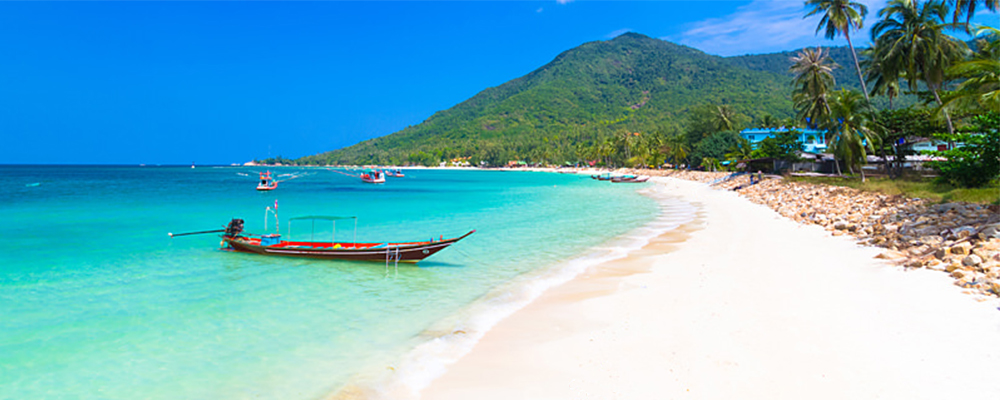 If you're looking for a well balanced mix of pamper and party then the little island of Ko Phangan in Thailand is for you. Situated just north, and a quick boat ride from the very popular and more traveled Ko Samui. Ko Phangan offers secluded bays, a variety of accommodations to fit any budget, incredible natural beauty, and of course the world famous Full Moon party.

Whether you've chosen a treehouse bungalow or a western style luxury resort you're money has probably gotten you far more than you would expect in Europe or The States. Think $8 massages on the beach. Then think, why am I not moving here? Either way, you'll find it easy to relax in almost everything you do here.

Choose the town to suit your style. When you're in the mood to relax stay in quite little place like Salad Beach, or as I like to call it, Bathtub Bay because the water is as calm as bathtub. Here you can take a moonlit walk on the beach, take a turn on the swing which extends over the water like a post card, or watch the twinkling lights of the shrimp boats night fishing on the water. It's the bohemian equivalent of admiring the cityscape at night.

Ready for some excitement? Take your life in your hands and rent a scooter to travel around the island. This is a great experience if you can remember to stay on the left side of the road. You can buy gas in old Pepsi bottles at a roadside stand and visit countless temples and historical places. When all this cultural exploring is getting too cerebral head down to Haad Rin for the world famous Full Moon party. Think of this as a Burning Man, Las Vegas, and Spring Break all rolled into one. You probably wont find many locals here.

Haena: Kauai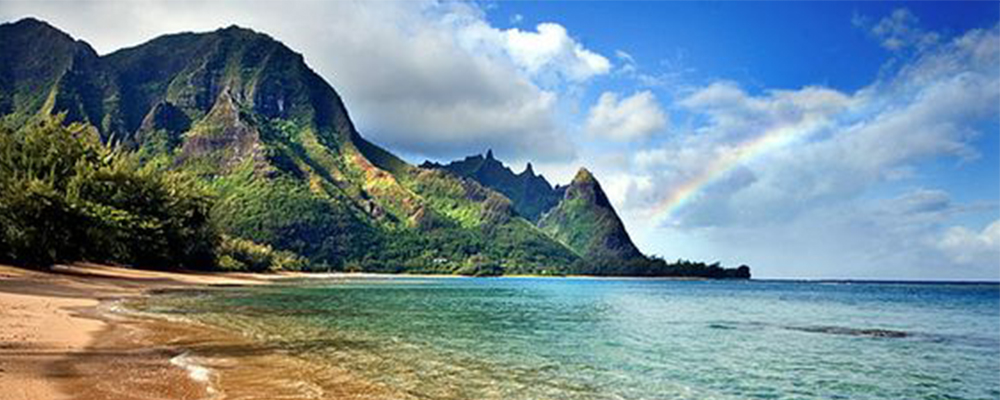 Enjoy a tropical exotic vacation with all the comforts of home. Of all the Hawaiian islands Kauai is my favorite. More specifically, a little town at the end of road on the North Shore called Haena. I use the word town loosely as the last real town, where you can go to a grocery store or have a selection of restaurants, is Hanalei. You may have heard of this very popular town, and for good reason. Hanalei beach is world famous for it's surfing, boogie boarding, and iconic half moon shape.

Just down the road is a lesser know collection of homes and vacation rentals called Haena. With few resorts, the quiet residential feel lends to a feeling of familiarity. Have your morning coffee on your private porch with your sweetheart. Listen to tropical birds and take in the view of lush mountains and waterfalls rather than sit in a hotel's busy dining room.

The north shore of Kauai is a very different climate than the south shore. The north shore has towering jagged peaks covered in lush foliage and streaming waterfalls. That beautiful jungle can only happen with rain. A lot of rain. So don't run from the rain, embrace it. There's something incredibly sexy about kissing in the surf in the warm rain.

Many of the houses here are built on pillars. As a result, your bedroom is very often in the tree canopy. Imagine romantic moments listening to the sound of fat raindrops falling on jungle leaves outside your bedroom window, and the feel of a warm breeze across your body high in the trees.

If you every get out of your bedroom you might enjoy some outside exercise. The Napali Coast trail head is a quick 5 minute drive away. This is a serious hike. Wear your best hiking shoes, bring snacks, a ton of water and heed the signs. If you think this hike might be too much you can still enjoy the beauty of the Napali coast by boat. Take an afternoon or sunset cruse for picture postcard views.

You can of course travel to the south shore for more consistent sun.

American Samoa



Where? Exactly. Most of us looking for a tropical getaway are looking for relaxation. And if you're like me your looking for a relaxing place everyone else has missed. For some reason American Samoa has gone largely unnoticed by the travel media. Perhaps it's image wasn't sexy enough or hipster enough to make the cut, but to me that just lends to it's appeal and makes it an undiscovered, uncluttered paradise you can escape to.

American Samoa is made up of five volcanic islands and is a United States territory. Tutuila is the main island. It's accompanied by its sister islands, Anu'u, Ofu, Olosega, and Ta'u. The names alone inspire fantastical images of pirate cosplay. Remember to pack your eye patch and boots, and perhaps nothing else.

This is the place to unplug and play. Don't expect a line of 5 star resorts on the beach clamoring to sell you things, take you on chartered tours, and basically, distract you from the moment. Instead reconnect with your true love and take some time for the two of you. You might just feel like you're the only two people in the world on Ofu Beach. With crystal clear water, soft white sand, and jungle cliffs rising above you it's easy to get lost in each other.


Palau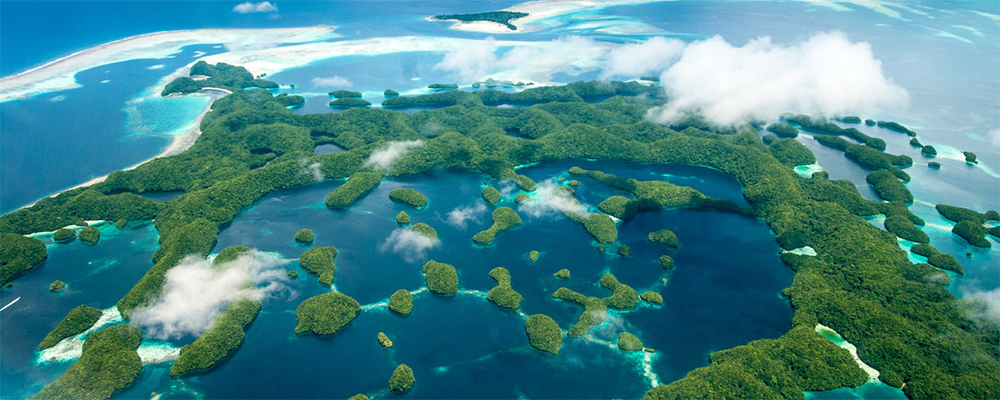 Looking for something a little different on your Honeymoon? How about swimming with the jellies in Palau? Palau is a divers dream. Dubbed the 'Underwater Serengeti' visitors are treated to hundreds of species of fish and corals. Sharks , dolphins, dugongs, turtles, and of course, jelly fish inhabit these clear waters.

Of Palau's many hundreds of islands only about eight are inhabited. Rent an ocean Kayak for the week and discover the seemingly unending archipelago of Rock Island. With countless quiet coves, serene sand bars, and secluded beaches, it's easy to find a romantic spot to get sand in your bits. Kayaking, camping, diving and snorkeling in this beautiful Unesco World Heritage Site is a once in a lifetime experience.

And just to make sure your Honeymoon stories will be the best of any party for years to come, swim with the jellyfish in Jellyfish Lake. 'Isn't that dangerous?' you ask. No! There is an endemic sub-species of golden jellyfish which is harmless to people populating this aptly named lake. Get up early and make the hike up and over a rise to your destination and snorkel in an ethereal lake of floating pulsating jellies.

Palau is filled with unbelievably beautiful quiet adventures. Explore the amazing diversity of nature and each other.